Crafts
Ladybug Crafts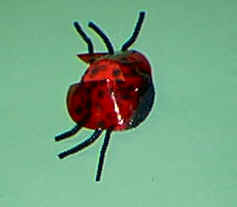 Material
2 inch Styrofoam balls (Use only one half)
Black pipe-cleaners (4 inches long (6 legs/2 antenna) 8each)
Red See-through wrapping paper (often used for food baskets)
Red and Black Markers
Glue or straight pins depending on age of children
Instructions
Cut styrofoam balls in half (2inch)
Colour round half ball

black head, red body with black dots

Attach 6 legs along flat bottom (3 per side)
Attach 2 antennas at top of head
Cut 2 semi- circles (2") for wings from See-through gift wrap. Attach to the body with glue or straight pins, just below the head

6 inch plain white paper plates
Red Crayons
Black Craft Paper
Adhesive squares used for scrap books or glue
little squiggly eyes
Glitter
Instructions
Colour the top of an upside down paper plate red
Cut out Large circle for Head, small circles for back
Glue or use adhesive to attach small circles to the back and then attach the head.
Decorate with Squiggly eyes on head and glitter as desired.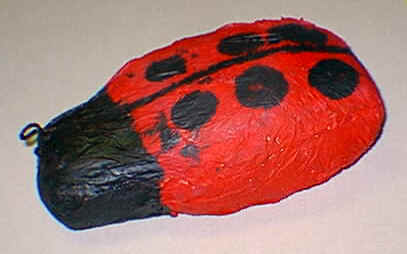 Material
Red and Black Paint
Small (Head) and Large (Body) Margarine Container
2 Black Pipe Cleaners
Instructions
Tape two margarine containers together to form the base shape.
Cover shape with Paper Mache and let dry
Glue pipe cleaners for antenna's and curl
Paint black head, red back and let dry
Paint black spots

Lasted Updated: August, 1997
Copyright © 1995 1996 1997 by BRIGHT IDEAS Software.