North Renfrew Family Services (NRFS)
..... is a non-profit agency providing confidential counseling, advocacy and support to individuals and families of all ages in north Renfrew since 1968. NRFS is a community based and supported service, a member of Family Service Ontario and the Renfrew County United Way.


We are located in the Medical Building at the Deep River and District Hospital. The office is open Monday to Friday from 9 am to 4 pm. Call 613-584-3358 to arrange an appointment.
NEWS
Effective immediately,
OUR NEW EMAIL ADDRESS IS office@nrfs.ca
old address is not being monitored
Staff
Tracy Russell (Executive Director)
Kelly Hawley (Counsellor)

Elise Cox

(Counsellor)
Susan Patterson (Office Manager)
Dr. Len Gignac (Clinical supervision/Psychological Services )
Doreen Clements (Volunteer Accountant)
Facilitator and Child Care personnel (HeLP (Healthy Lifestyle Program))
North Renfrew Family Services COVID Update 2022 January 04
As Ontario has moved back into modified Stage 2 of the "Roadmap to Reopen" in accordance with COVID-19 protocols. NRFS staff will not be serving clients face-to-face in counselling sessions until further notice, however, to serve our community are able to resume counselling sessions via telephone and Zoom.

For more information on the Roadmap to Reopening Ontario, go to the following link: Reopening Ontario | Ontario.ca found at the Government of Ontario's Web page. For further information regarding COVID 19 in Renfrew County, you can find updates at the Renfrew County and District Health Unit at: https://www.rcdhu.com/


Regular agency operations continue during the pandemic with regular business hours of 9:00 a.m. – 12:00 p.m. and 1:00 p.m. - 4 p.m. Monday to Friday. Phones are not answered between 12:00 p.m. and 1:00 p.m. The NRFS office at the Deep River and District Hospital health campus is currently closed to the public; staff are working remotely. Please do not attend the NRFS office location for any reason. Counselling sessions and Wednesday Walk-In Clinic sessions are by appointment only and can be arranged by calling the office. Please check the North Renfrew Family Services webpage, or Facebook page for agency updates.

Donations can be made by mailing a cheque to NRFS Box 1334 Deep River, ON K0J 1P0 OR donate on-line by clicking this link https://www.canadahelps.org/en/dn/10598

Thank you for your patience while we work to protect our clients and staff. We are all in this together.
Sincerely, North Renfrew Family Services Staff and Board of Directors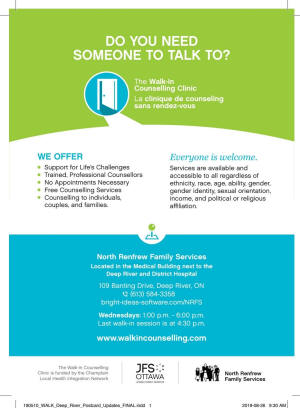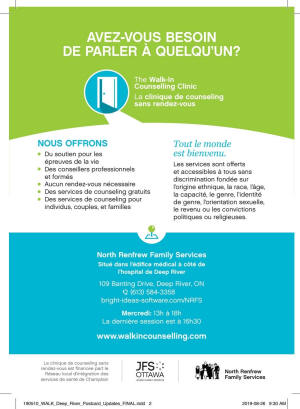 SERVICES & PROGRAMS
SERVICES & PROGRAMS for families and individuals of all ages in the North Renfrew Area (Chalk River to Deux Rivieres). Referrals can be made by: self/family/friends, doctors/health care professionals, churches, police, schools and other agencies. For more information go to Services, Programs
OTHER
http://yourlegalrights.on.ca

A project of CLEO Your Legal Rights is a website of legal information for people in Ontario. This site has free, practical, and easy-to-find legal information produced by hundreds of organizations across Ontario.