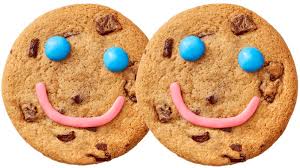 Get a Smile, Give a Smile
Local Tim Hortons Smile Cookie Fundraiser to Support North Renfrew Family Services
Come out to purchase your Smile Cookies
September 13-19, 2021
From September 13-19 all across Canada, Tim Hortons stores are donating the full $1 from every Smile Cookie sold to select local charities. Deep River restaurant owners, Shen & Ania Breckon, have once again selected North Renfrew Family Services (NRFS) as the local recipient.
NRFS is a non-profit agency providing free confidential counselling, basic needs assistance, advocacy, and support to individuals and families of all ages in North Renfrew since 1968.
Approximate 1 in 8 people in North Renfrew access services from our agency.

Our services are available to ALL residents of North Renfrew from Chalk River to Deux Riviėres.

The Main focus of our work is crisis intervention, counselling and support. Information and referral, advocacy, education and community representation are important areas of focus.
Last year we raised over $5300 for NRFS from your Smile Cookie purchases. This year our goal is to raise $7000! We need your ongoing support to make this campaign a success.
Come out to purchase your Smile Cookies September 13-19.
Pre-ordering and Bulk sales are great ways to share your Smiles with teammates, colleagues, friends and family.
Download a Smile Cookie pre-order form or Tim Hortons' Then email the filled out form to DeepRiverSmileCookies@gmail.com.
(Pre-ordering will allow us to coordinate our volunteers and plan for cookie making). Please note that Tim Hortons requires 48 hours notice to ensure your Pre-order is ready. Completed pre-order forms can also be dropped off at the local restaurant as soon as possible.
We will hold a campaign photo opportunity with Tim Hortons and NRFS for the business, individual or group with the largest number of cookies pre-ordered! Your participation in this year's Smile Cookie campaign will truly make an impact on the North Renfrew communities, and the programming of NRFS.
<![if !vml]><![endif]>