Welcome / Beinvenue
Annual Championships/Le Championnat Annuel
"Pembroke Old Time Fiddling
and Step Dancing"
September 4th and 5th, 2015
40th Anniversary 1975-2015
News: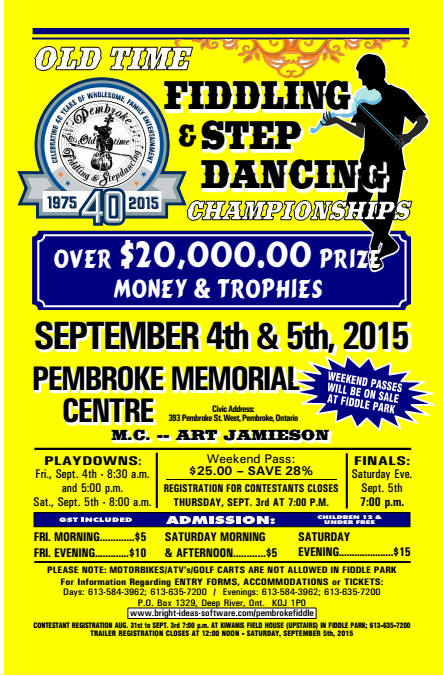 2015 Information and Forms
2015 Poster - 40th Anniversary edition
Contestant Registration
REVISED Contestant Registration Process
Register online or email before noon Thursday September 3rd
Download the Registration form in Word or PDF
2015 Registration Form.doc (Word)
2015 Information and Registration Form (PDF)
Edit and complete the Registration Form and email to dhickey@magma.ca
After noon Thursday September 3rd:
Contestants can call/register at
Kiwanis Field House (Upstairs) in Fiddle Park or
Call (613) 635-7200
Contestant Scholarship
2015 Scholarship letter and information
Fiddle Park Info
Note: PDF Program and other information is the Offical version.
The web information is for information purpose only
2014 Results
Pembroke Fiddling and Step Dancing Results 2014
Pembroke Memorial Centre393 Pembroke St. W.
Pembroke, Ontario, Canada





Over $20,000 Prize Money & Trophies!
Plus de 20,000$ En Prix D'Argent et Trophees!
Tune Title : SUNSET ON THE OTTAWA ....copyright 1980 PRO CANADA by BRIAN HEBERT