Y29

As a boy, I learned to sail in the same creek that Admiral Nelson used. However I do not believe that I am a really great sailor (He believed that he was not really a great sinner).

In early 1955, John Hilborn and I bought a Y-Flyer. He used it for racing. My plans were more recreational. I took Colin and Pat Lennox and Betty Sears for a picnic off the Quebec shore. Finding water shallow enough, I asked Colin to drop the anchor. While enjoying the picnic we gradually became aware of the slow change in the scenery. It is always a good plan to make fast the anchor line before lowering the anchor and I have done that ever since.

I was able to persuade the same companions to come sailing again on a race day. While looking up the river, I could see that the weather was worsening .I turned back towards my mooring but a squall upset the boat in shallow water. The crew was decanted on various sides of the boat into about one metre of water. The mast head was driven into the sand while the hull punched a hole in the deck using the bottom of the mast under action of wind and water. In the middle of the river, several boats in the race were also upset but without serious damage.

For some reason, Colin and Pat never sailed with me again. Even Betty needed the drastic step of marriage before consenting to crew.

Alun Jones
Y29, After the Storm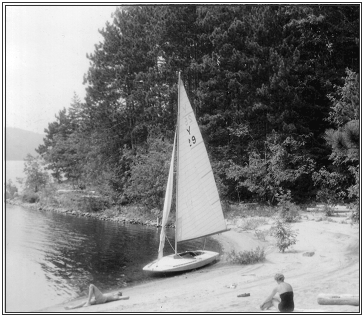 Y29 on the Quebec shore, early 1960s
Y29 came to rest in shallow water, with the mast and sail driven four feet into the sand by the pile-driver action of wind and waves on the upturned hull. After a number of failed attempts to pull the mast and sail out of the sand, we laboriously shoveled sand out of the sail and managed to remove it from the mast; and with more shoveling around the mast, Y29 was finally extricated, repaired, and sailed for many years. Ultimately, it was acquired by the Yacht Club for the Junior Sailing Program, and after that, who knows?


John Hilborn