Rules are Rules - For the Most Part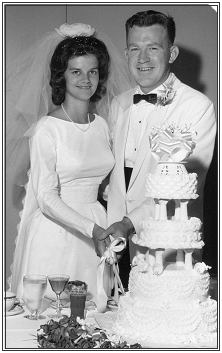 Lyall Smith and Vera Pacholzuk
Forest Hall, Deep River
August 3, 1961
In the early sixties being a resident of AECL's hotel system was a pleasant experience.

Keep the noise down, respect your neighbour's desire to sleep, don't damage the furniture, keep your room tidy so the cleaning staff could clean it, and don't tick off the desk clerk. All reasonable rules.

Good behaviour allowed residents free use of many facilities such as a designated room for parties and on special occasions, free use of the cafeteria.

One engaged couple took advantage of AECL's generosity by booking the cafeteria and basement lounge of the new staff hotel for their wedding.

After weeks of planning, the groom was informed that the hotel was not available to them because the bride (an AECL employee) was not a resident of the hotel but a village person.

After much discussion with the caterer (Crawley and McCracken), a formal written request was submitted to the hotel manager to reconsider his decision.

It was subsequently discovered that most employees were unaware of this rule. However the manager smiled and told the couple their request was approved. As they left they overheard him say "Rules are rules --- for the most part".

It was a great wedding.

Lyall Smith