The Staff Hotel Revue 1956 (A Night to Remember)


The female kickline was organized by me, Sharon (Little) Rogers, who, happily, had had the amazing experience of being part of the famous University of Western Ontario's Purple Patches Revue Kickline of l954. Their finale of 40 kicks was a show stopper. (Purple Patches was held at the Grand Theatre in London with Director: Ken Baskette; Choreographer and Music Director: Bernice Harper and Johnny Downes. I am certain those were fairly important people (although how was a prairie girl to know?) In any case, a year or so later I found myself in the party town of Deep River and before I knew it I had offered to organize a kickline for the Staff Hotel Revue. It was a blast. We practised diligently. Older men of the scientific community were known to come and watch (ogle?) as we kicked. On page 61 of Joan Melvin's "Deep River" you will find us: Toni Cormier, Sharon Little, Mary Ellen Sharpe, Nancy Dodd, ?, Joan Gillis and Betty Green. We kicked to the tune of "Every Little Breeze Seems to Whisper Louise" and, yes, our finale was 40 kicks. Our costumes were put together by Nancy Dodd who had impeccable taste. I believe our dancing shoes and fishnet tights came all the way from Malabar's in the big city of Toronto. We were such a hit that the audience in the cafeteria rose to their feet and whistled and clapped and shouted for more.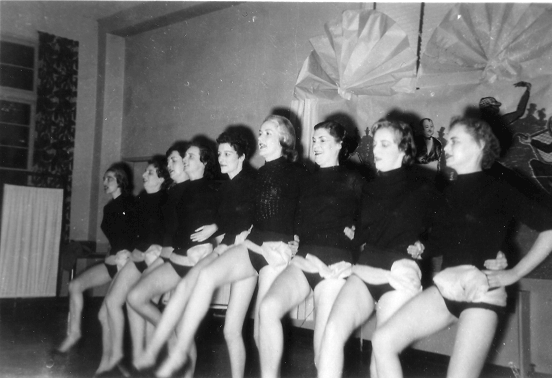 .Indeed, they did get more because Terry Rogers had organized a male kickline. As the music started up again, in they came with their hairy legs and crinolines and strategically placed balloons and grapefruits. As retold in the North Renfrew Times of April 10, 1996, there was Danny Nishimura, Terry Rogers, Jean-Claude Roy and Jack Smith amongst others. Bringing up the end of the line was the royally inebriated 6'6" Andy Kennedy who lost most of his grapefruits whilst stumbling onto the stage area, and proceeded to crawl around replacing them while the kickline continued its performance behind him.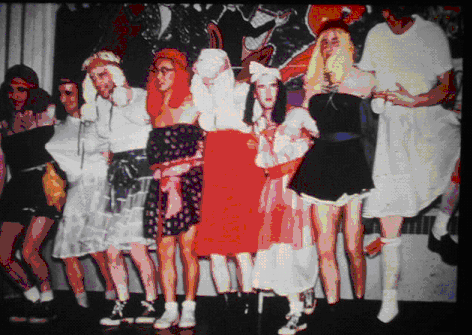 This same revue featured Joan Bancroft and Stan Ostle in the Apache Dance in a memorable performance.