Gingerbread Dough (for Gingerbread houses or cookies)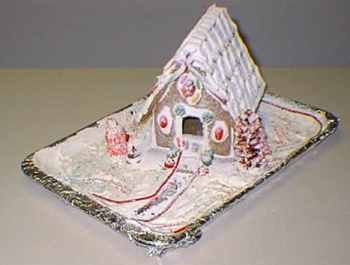 1 cup Shortening
1 cup White Sugar
3/4 cup Fancy Molasses
1/2 cup Cooking Molasses
2 Eggs, slightly beaten
5 1/2 cups Flour

1 tsp. Baking Soda
1 tsp. Salt
2 tsp. Ginger
1 tsp. Cinnamon
1 tsp. Cloves

Cream shortening, sugar, molasses and eggs.
Mix dry ingredients together then slowly add molasses mixture. Mix well.
Divide dough in 4. Wrap in plastic wrap and refrigerate 2hour. (Can store up to 1 week)
Roll dough between wax paper (1 1/4 at a time).
Remove top paper and cut out patterns. Freeze pieces until hard.
Place pieces on greased baking sheets.
Bake at 325°F for 12-15 minutes. (firm to touch).
Remove to racks and cool.