Chinese Parade Dragon
Grant's Class was learning about dragons and decided to make a large dragon for a school parade.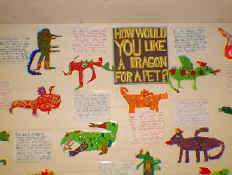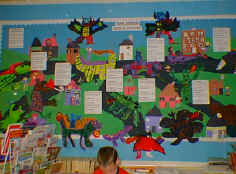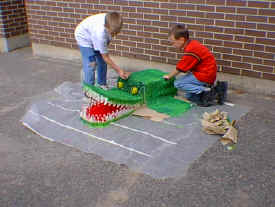 Dragons Head:
Materials
Use a large rectangular box upside down for the skull
2 Large pieces of foam for the mouth/teeth
Tennis balls for eyes
Green fabric to hang down on the sides of the head.
Red fabric for Tongue
Tempra paints (Green, Red, White, Black)
Glue Gun
Scissors
Steps
Shape foam pieces
Assemble Head by attaching 2 foam pieces to narrow side of box and side flap with a Glue Gun. (Kids will need help)
Attach tennis ball eyes with glue.
Cover bottom on long sides and back side of box with cloth.
Decorate with paint with tempra paints.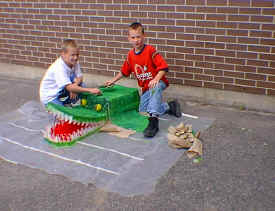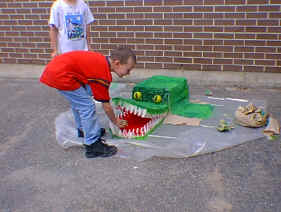 Dragons Body:
Materials
Use a large plain rectangular sheet of fabric (roughly 4-5 ft wide and as long as you like
Small (6-10 in) pieces of coloured fabric/scraps for scales
Long thin (2 ft) strips of coloured material
Safety Pins for Pining / Or needle/thread for sowing scales on to larger fabric
5 Hula Hoops (depending on length of body) or 4 ft peices of hose to
Steps
Attach SCALES - small fabric pieces to cover large plain fabric
Attach SIDES - Long fabric pieces to side edges of large plain fabric
Attach hula-hoops to underside of the large rectangular fabric
Attach rectangular fabric to Head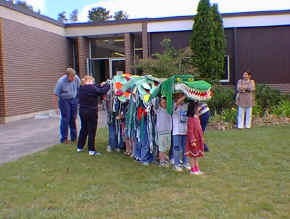 Have children line up under the dragon holding up head and using hoops to hold the body .
Head and hoops are pushed up and down to give the dragon the flowing, life like appearance.
Have fun on parade.